Hey ! Here are all the information about my summer tour project for 2015 in France, and around.
I like to see music as a constant experimentation. I like to experiment in the way I play music, as well as in the way I interact with you, the person listening to it. Next summer, I'd like to try something new, that I have not experimented yet: I'd like to play at your place. I'd like to make a series of house concerts, with you, who share a taste for soft and heartfelt music.
The idea would be to organize, together, a show in your backyard/living room/garage/attic. For you, it's an occasion to organize a special event with your friends, a great musical moment, in a place you like. The event will be strictly private, we're not talking about inviting strangers to your place; it is about having a beautiful musical moment, with you and the people you like. For me, it's an occasion to play in front of an attentive audience, curious about discovering my music, and sharing a nice moment with y'all.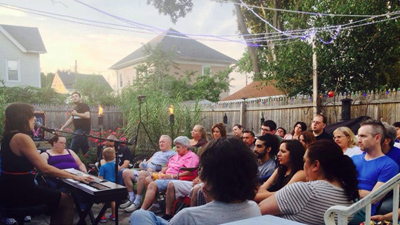 Sounds nice! Can you tell me more? Like, when will that happen? Where did you get the idea?
An artist called Shannon Curtis has been doing her tours that way for some 4 years now in the US. In 2014, she played more than 60 shows like this! She even wrote a book about it. I thought the idea was great, and thought, why not try?
I'll in Europe between June 25 and July 20, and I'd like to organize these house concerts at that time.
How many people are we talking about? Would I need a lot of space? 
This is up to you, and the floor space you have available; what is needed for it to be a successful event is at least 20 persons in the audience, and a seat for every one. It could be inside, or outside.
As I stated earlier, this event will be strictly private; which means I won't invite any stranger to your place. I might put on a few pictures and videos on my website afterward, but that's it.
What this means too, is that we BOTH are organizers of the house concert: Your task will be to invite friends, family, work colleagues, folks from the gym, to come and have a good time with us.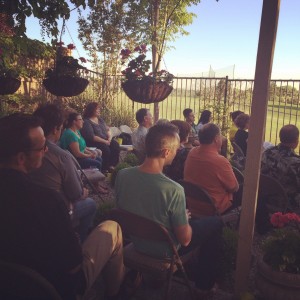 And more specifically, how would this all happen? 
More specifically, you're the one planning the house concert in advance. Who do you want to invite? Do people need to bring food? Drinks? Should we ask Paul to do his famous BBQ pork ribs?
On D-Day, I'll show up at your place in the afternoon with a follower, in order to set everything up. We'll bring everything that's needed sound wise (amps, mics…), maybe a few lights to set the mood, and together we'll set up your living room/garden/attic to accomodate your guests.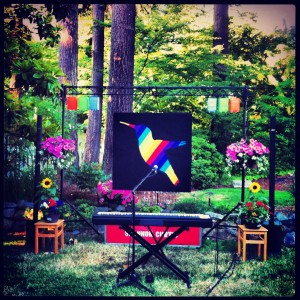 Your guests will know they're expected at, say, 19h, and that an hour later, the concert will start. At 20h, your guests will be invited to sit down, and I'll begin to play. I'll play for about an hour.
Then at the end of the show, I'll give you a big thanks, and the night will go on as you planned it. I'll be around for some time, having a chat and relaxing with everyone. I will probably have few things for sale, too: Cds, Posters, we'll see.
Oh yeah that's true, how about money? How do you make a living like this? How do you pay for travel expenses, material, food and stuff?
First and foremost, let's be clear: the goal of this tour is not to make money, but to be able to make small scale quality concerts, with an attentive and caring audience. At the same time, it is true, making music and going on tour is expensive: You have to buy instruments, pay for gas, food, tolls… This is the reason why artists charge you when you go and see them live.
But for this project, I'd like to try a different way of doing things. Instead of asking for a price at the entrance of the show, I'd like to work with an open donation system. This means that the people assisting the show will be asked to contribute at the end of the concert, with the amount they deem fair. It is important to have this aspect in mind beforehand and that you tell your guests in advance, so that they don't feel bad on the day of the concert. Also, I'll have a few CDs and posters, for those of you who might want to take some home.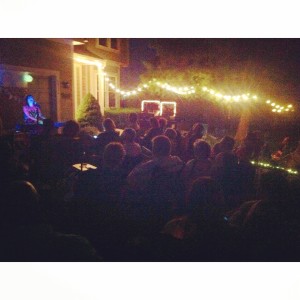 So yeah, these donations are essential to me, and the bigger they are, the better: it helps me go forward with my musical projects, buy studio time, instruments, contract musicians… At the same time, I prefer to work with an open donation system that will allow everyone to go and enjoy the show, and every one to contribute in its own way, instead of excluding people because they don't have the means to come. It is a sort of bet for me, it's true. But I'm optimistic :).
Awesome. So did you plan on coming in [Insert your town/country here] ? 
I don't have schedule or an itinerary yet; I'm sending this message, the same way I would throw a bottle out to the sea, and I'm waiting for your answers! Which means that you tell me "Ok, let's go! I'm available on these days…", I will take note of all this, see other responses I get, and in a few weeks, make an itinerary, and try to go to as many places as I can. So if you're motivated, and I'm able to come, I definitely will!
Ok, let's go then! But you'll play so much house concerts, you'll never be available? 
Hold your horses there, so far, this is just an experiment… If we manage to organize even just a few shows, that will be amazing already! So stop hesitating, and click here and send me an email, and we'll talk about it! See you soon…